---
No matter the SMS vendor, this question is bound to arise when a Realtor® puts out a new sign displaying his shiny new mobile adcode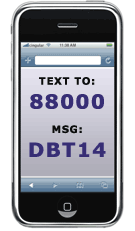 but doesn't receive any leads.

One could assume in the current economic climate that this is due entirely to a lack of buyer interest. Maybe so, but there are other possibilities and there are things you can do to increase exposure and make contact with prospects.


If the property is in a culdesac or low-traffic neighborhood opportunities to interact with prospects will be limited. Possible remedies are:

Add more signs with the text enticement to higher traffic streets near the property.

Within this approach you can use different codes for sign locations (prop12, prop11 etc). This allows you to track your responses by sign location. With the data gathered from such an experiment, you can then judge the effectiveness of sign location. If one of your alternate signs is generating nothing, move it to a more likely location.





Periodically move a single text message sign to nearby locations

Because the property information will include the address, you may be helping to direct prospects to the property location. A win-win for you and the prospect.





Try a standalone sign

Some Realtors® prefer riders on existing signage. In a high-traffic situation, this works well though we have seen examples where riders at the top and bottom of the typical sign produces clutter. Having a standalone sign with only the SMS instructions can be an effective way to avoid sign "clutter" and maximize the effectiveness of the call to action.





Add your text message enticement for the property to classified ads and/or any media ad buy.

It is generally a good idea to use a separate code for tracking purposes, but this isn't necessary. The goal is to interact with prospects. Maximizing the ad's exposure will produce results.


Of course, last, but not least, Test your ad. This is truly the first thing you should do before putting out any signs or ads. Making sure they're active and responsive prior to sign delivery is a must to ensure a successful campaign.